One of the central issues for many Lakers fans including myself involves the the offensive floor balance of the Laker offense when Rajon Rondo is on the court alongside LeBron James and Anthony Davis.

While this subject has been covered ad nauseum through film and data, Rondo's shooting improvement hasn't been a problem so far this pre-season.

In the first pre-season game against the Warriors, the Lakers did not run much set action as the front court continually pulverized the undersized Warrior front court, but against the Nets who stagger DeAndre Jordan and Jarrett Allen they did.
Due to the amount of attention Anthony Davis attracts, the Nets defensive game plan involved sending a help defender against Davis' post touches.

For the possessions in which Rondo was on the floor, often the defender that was tasked to help was the one assigned to him. Again the issue here is not Rondo's shooting as he has been solid from three so far.

The issue here is that the defense was limiting Davis' options when Rondo and Davis were on the same side of the court.
Take a look below to better visualize the floor balance issue that is occurring when Rondo and Davis are on the same side of the court. The video freezes when it's clear to Davis that there is second defender helping.
As you can see in the video above, Rondo's defender helping double Davis limits some of his options on offense. However there are some adjustments the Lakers can make in order to help correct the issue.
Change The Entry Passer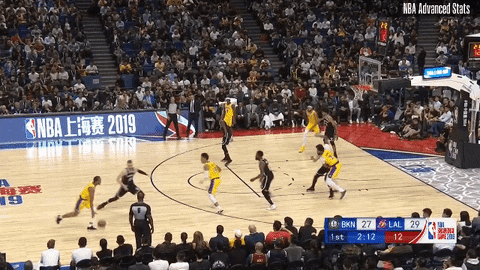 On one of the possessions Avery Bradley made the entry pass to Davis and though he isn't a great shooter himself, his defensive assignment wasn't instructed to help off him, so Davis was able to use the middle of the court.
Vacate The Side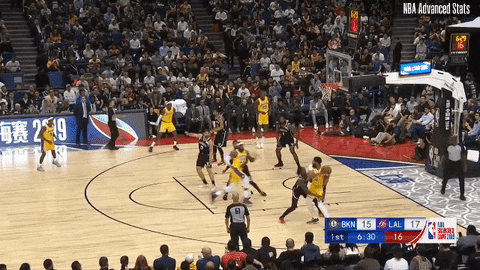 On another possession the Lakers vacate Davis' entire side of the court. You can see how Prince is adjusting his feet so that he is ready to cut off Davis' lane to the middle giving up the baseline. Jordan shows help on the baseline which leaves Dwight an easy offensive rebound opportunity.
While the Lakers continue to work out their actions on the offensive end, keep an eye on Davis' post up decision making.

Variables like who makes the entry pass and the floor balance is integral to maximizing his opportunities out of those possessions and it will be interesting to see how the coaching staff adjusts to defensive coverage.